Revela'T 2018: Odysseys, a journey full of adventures
Odysseys was the theme of the sixth edition of the festival, which referred us to Homer's poem recounting the adventures of Odysseus (Ulysses) on his journey from the conquered Troy to his return home, Ithaca.

The word "Odyssey" came to mean in the universal language "journey full of adventure". A journey where the final destination ceased to be the main objective and became the journey itself, a path that enriches and transforms us, in such a way that we will never be the same as when it began.
At Revela-T we experimented, saw and debated photography, accompanied by important national and international figures, and it brought together the dreamers, the non-conformists, the fearless, the tireless, those who are not afraid to try and explore paths other than the usual ones.

In this edition we had an exhibition by Jeff Bridges, better known for his acting skills.
The Silver Needle of the festival was in this edition for Ferran Freixa.
It was the first edition of what we call Revela'T OFF where different galleries in Barcelona show Revela'T exhibitions.

In December, we did the first edition of Revela'T Winter Madrid.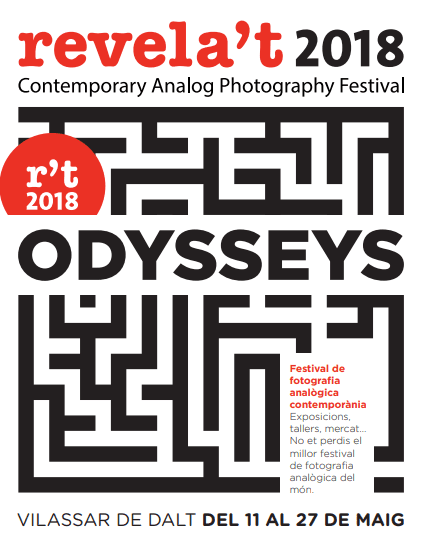 EXPOSITIONS
Javier Arcenillas, City Hope. Gerard Boyer, Ser de La Cala. Jeff Bridges, Pictures and White Squall. Alejandro Chaskielberg, La creciente. Nathalie Daoust, Korean Dreams Ferran Freixa, Fotografia. Luther Gerlach, Original. Matthias Hagemann, 100 Kilometers Ariko Inaoka, Erna and Hrefna. Juliana Kasumu, Irun Kiko. Kamila Kulik-Maciejewska, Are you Awake? Fernanda Larraín, El viaje de Fernanda. Isabelle Levistre, Anamnèse. Sean Lotman, Sunlanders Amalia Márquez, End to End. José Manuel Martínez Perea, Alea Jeff Michalek, Escenes from a Junkyard Fernando Miranda, Reminiscencia. Kenneth O'Halloran, Harvest Gloria Oyarzabal, La picnolepsia de Tshombê. Jordi Parramon, Les carreteres de l'amor. Leopoldo Plasencia, Ciutats en construcció. Proyecto PHES (Fotografía Española Solidaria). Lluc Queralt, NY una década Florian Reischauer, Pieces of Berlin. Anne Roig, Theme Park 66. Tina Rowe, My mother's house Maria Solà, L'inventari. Ryan Weideman, In my taxi: 1980-2012
Expositions OFF
Aragonés, Xavier. Twentysix Abandoned Catalan Gasoline Stations (Centre Cívic Can Basté). Ariño, Israel. Crónicas de un desembarco (Fifty Dots Gallery. Bergés, Laurenz. Black Diamond (Mecànic). Borges, Etel. Symbolic Map (La Iguana Cultura). Cruz, Irene. Björk (Fifty Dots Gallery). de Castro, Alfonso. Double Take (Nau Nostik). Garcia, Bernat. El Camino (Fifty Dots Gallery). García, Daniel. USA'90 (Fifty Dots Gallery). Garrido, Eric. Dentro (Espai de Fotografia Francesc Català Roca). Giménez, Nagore. Distorted Memories (Espai de Fotografia Francesc Català Roca). Jornet, Anna. Île (CFD). Kenna,Michael.  Oneiros (Valid Foto BCN). Lista, Frederic. Forever Changes (Nostàlgic). Márquez, Jordi. El largo camino hasta el mar (Espai de Fotografia Francesc Català Roca). Martínez, Conchi. Cuaderno de viajes (Art Deal Project). Matés, Sergi. Glowing Darkness (Lomography Embassy Barcelona). Ordóñez, César. Tadaima (Fifty Dots Gallery). Rossell, Roger. El bon dolor (Projekteria Art Gallery). Teixidor, Joan. Canvis substancials (Pati Llimona). Tuparova, Gabriela. La pell de l'estiu (Espai de Fotografia Francesc Català Roca)
PROGRAMME
You can download the programme here.