Revela'T 2013: The first edition
The Revela'T festival arose to celebrate the anniversary of a website, espaifotografic.cat, which had its moment with the boom in digital photography.
Trying to find those lost sensations, we decided to have an encounter where analog photography was the protagonist. As lovers of the original techniques and in particular of the Wet Collodion we asked Quinn Jacobson, one of the most recognized at this time. The response was positive and our surprise was capitalized, since we did not expect that starting from this workshop would form what is now the festival.
Upon learning of Quinn's presence, another great photographer and friend of his, Josep Maria Ribas Prous, contacted us, and we had a first exhibition that eventually became eight, and which we rounded off with two workshops, one on pinhole photography with Ilan Wolf and another with our dear Eduardo Momeñe and José Manuel Navia.
An edition that lasted only one weekend and that for us was a great experience that did not take long to bear fruit.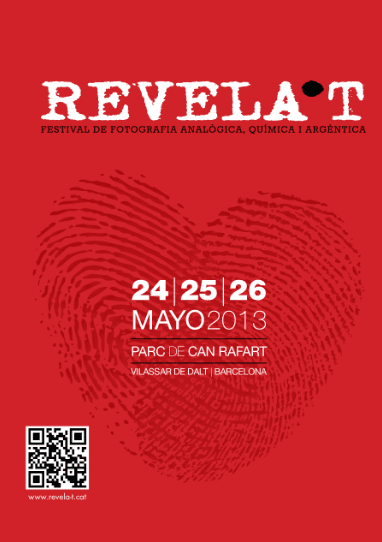 EXPOSITIONS
Faustí Llucià, Botánica urbana. Hanna Jarzabeck, Lesbians & much more. Miquel Àngel Pérez, Nudus. Pablo Lerma, Related Time. Colectiva, Hablando en Plata. Colección J. M. Ribas Prous y Llorenç Herrera, USA tintypes/ferrotypes western time (circa 1856/1880). Colección Ramón Rodó, Exposición de cámaras fotográficas antiguas. Centre Excursionista de Catalunya CEC, Autocromos, fotografia en color de principios del s. XX.
PROGRAMME
Friday, May 24
19:00h – 22:00h


Opening round of the exhibitions
Saturday, May 25
10:00 – 12:00h


Conference-practical demonstration of pinhole photography with Ilan Wolff

12:00 – 14:00h


Wet Collodion Hands-on Demonstration with Quinn Jacobson

10:00 – 13:00h


X edition of Caja Azul: «Analog rhythms in digital times«

14:00 – 16:00h


Popular rice

17:00 – 19:30h


Round table "Photography: passion and expression" with E. Momeñe, J.M. Navia, M. Laguillo, led by J. Bou

17:00 – 19:00h


Conference «1839-1939: Els primers 100 anys de les càmeres fotogràfiques» by Ramon Rodó

20:00 – 1:00h


Music groups, beers, talk, sandwiches, parties …

10:00h – 18:00h


Commercial demonstrations and different techniques by the groups that collaborate in the festival: photogenic experiments, a giant cyanotype, carbon stamp, chemgraphs and much more.
Sunday, May 26
10:00 – 20:00h


Introductory Workshop on Wet Collodion with Quinn Jacobson

10:00 – 20:00h


Pinhole Photography Workshop with Ilan Wolff

10:00 – 20:00h


Workshop "The Photographic Vision, from theory and practice" with E. Momeñe and J.M. Navia

10:00h – 15:00h


Commercial demonstrations and different techniques by the groups that collaborate in the festival: a minute camera that will circulate through the streets of Vilassar, chemgraphs, bichromated rubbers and much more.

14:00h – 16:00h


Popular barbecue
Tuesday 28 and Wednesday 29 May
10:00 – 20:00h


Advanced Negative Wet Collodion Course with Quinn Jacobson